100% Pure Essential Oil Blends for Babies, Toddlers, Kiddos and Adults!
Essential Oil blends are what we call "powerful lil' nature potions", so we want to make sure you know everything you may need to know about how to use them correctly to treat your little one. Once you experience their positive effects, we know you'll join us in saying OIL MY GOODNESS!
So what are these "Powerful Lil' Nature Potions"? 
(a.k.a. Essential Oil Blends)
Essential Oils are extracted from plants and flowers. They include the actual essence of the scent of the plant, giving them a powerful therapeutic effect. Essential Oils have been used since Ancient Times to care for common (and sometimes not-so-common) troubles and are even mentioned in the Bible over 200 times! Talk about Biblical proportions! Essential Oils are all-natural, non-invasive, non-toxic and are VERY easy for the body to absorb and use for care. And when you blend multiple oils together and dilute them appropriately with a moisturizing carrier oil, you can create one powerful lil' nature potion that will help your kiddo (and you). Oilogic Essential Oil Care always uses 100% Pure Essential Oils that are sourced from around the world. Each of our blends includes the right concentration of each powerful oil, diluted appropriately with a carrier oil, to create a safe, yet effective formula for your little love.
Why can you trust Our Oils?
The Essential Oils we use are 100% Pure and contain NO Proteins
Across our collection, we use 26 different Essential Oils, sourced from the country the plants is indigenous - over 13 countries!
Our blends are diluted properly within the blend and moisturizing carrier oils to provide a safe, yet effective solution for your baby or toddler
Our Essential Oil Roll-ons and Ouchies and Boo Boo Ointment are MADE SAFE™ Certified (www.madesafe.org)
All of our Roll-ons are handmade, crafted and poured. We take great care in every product we make to ensure the best for our babes.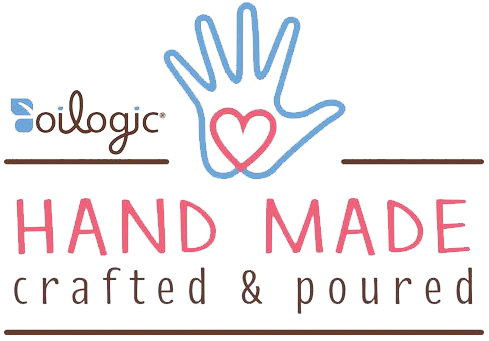 Get to know us
Oilogic® uses 100% Pure Essential Oil blends, sourced from over 13 countries across the globe, to naturally soothe and comfort everyday ailments. Made by Moms for Moms, our products include the right concentration of each powerful oil, diluted appropriately to create a safe, yet effective formula that is ready to use.
Quality and safety first
We perform the following quality tests to ensure each product is pure, clean and free of synthetics and impurities: Gas Chromatograph (GC) / Mass Spectrometry (MS) testing, Microbial Testing, Gardner Color Index and Refractive Index. All of our Baby Products are Pediatrician and Dermatologist Tested. Our Roll-ons are MADE SAFE tested and clean, natural and free of petroleum, phthalates, parabens, sulfates, gluten, dea, dyes, synthetic perfumes, artificial colors and mineral oil.

Not your everyday essential oil company
Moms love our products because we make using natural essential oils easy-peasy. Here's our process: We create a blend of 100% Pure Essential Oils to comfort a specific ailment. We dilute the blend with a carrier oil to be used topically on the skin. We package in an no-mess Roll-on and other personal care products. Ready to use natural solution for your family!

With Oilogic, we've done all the research and guesswork for you
It is blended, diluted, packaged and ready to go, so you are prepared immediately.

How can Oilogic stay so competitively priced?
Because we do not sell singular, undiluted essential oil notes, we can keep our pricing competitive as you are only paying for the essential oil you need and the issue you need it for.
Oilogic vs other essential oil brands

"Them"
A blend of 4+ Essential Oils

Single notes of pure Essential Oil

Diluted to be used topically for a certain age range

Sourced fromthe country where the plant is indigenous

Quality testing to ensure oils are 100% Pure

Pediatrician & Dermatologist Tested

MADE SAFE Tested for human and environmental health

Free of petroleum - phthalates - parabens - sulfates - gluten - dea - dyes - mineral oil - artificial colors - synthetic perfumes